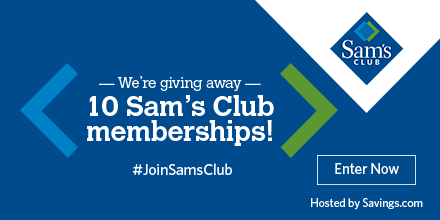 If you have never shopped at a Sam's Club then you might be missing out! I am a big fan of shopping at Sam's Club! I can buy items in bulk for nice low prices, that I can't find anywhere else!  It has really helped me and my family stay on budget! The prices can't be beat, and you know I love to saving money!
If you are new to Sam's Club, it is a membership based warehouse store. You can buy a yearly membership, and get to shop and save quite a bit of money and time, if you know what to look for! They sell items in bulk from snacks, meats, seasonings, toiletries, and so much more. They even have fresh fruits, dairy products, meats, and a wide range of frozen products.
Sam's Club Is Pretty Much Never Out Of Stock
Something about buying in bulk always gets me excited! I love being able to stock up on items we buy each month. It saves me from having to run to the store every other day, and that is something I don't always have time for! I love buying toilet paper at Sam's Club! You buy huge bundles of it, for a nice low price. Toilet paper is an item you can't live without, so why not save money buy in bulk and not have to worry about running out in a week!
If you buy meat from Sam's Club, I always recommend breaking down the packages into smaller portions to freeze them. Then when you are wanting pork chops just go to your freezer and grab a bag, that you already portioned out.  You don't have to cook up the huge quantity it came with! By breaking it down before you freeze, you got a package made into three different meals!
Sam's does an amazing job at keeping their shelves stocked. I have shopped at Sam's for years and not once have I went and an item I wanted to buy was out of stock. I mean I am sure it happens, but I haven't had it happen to me. They do a great job of keeping the store clean, and stocked with items.
Order Online and Ship to Store Or Home
Buying in bulk saves you time from running to the stores, helps stock up your pantry, freezer, and kitchen cabinets! You can even order online, and have items shipped directly to your home, so you don't even have to leave home or your comfy couch! You can also order online, have it shipped to their store, and go pick it up at your Sam's Store location!
Sam's Club Membership Benefits
The Sam's Savings $45 membership is a great deal! That is one of the best prices I have seen for a membership to Sam's! If you are considering joining, now is the time for sure! You will be amazed at all the items Sam's Stores carry, they have electronics, clothing, gardening, razors and beauty, food, and so much more. My sons favorite membership perk is the snack bar with amazing prices. You can get your entire lunch for less than $4!
Bonus, they always seem to have little sample stations set up, so if you want to try one of them, it could be your new favorite item! One time we went in and they were giving out samples of meatballs. I still to this day buy those meatballs, because they were so good! If I had never tried the sample, I probably wouldn't have bought them!
Giveaway
BONUS: right now you can enter an awesome giveaway where 10 Winners will receive a gift card for a one year Sam's Plus membership to Sam's Club worth $100!  Click Here to enter the giveaway! Just enter your email in the form, to be entered. The winners will be chosen through a lottery drawing, and will be notified Monday 6/5 if you win! The giveaway runs from Tuesday, May 30th at 12:00 AM ET, to Friday, June 2nd at 11:59 PM ET.
That is an amazing giveaway prize, and with 10 winners total, it is worth entering for sure!