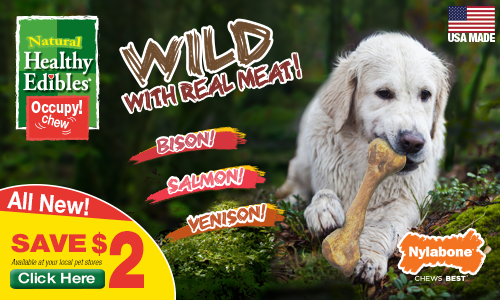 I admit I tend to spoil my dog aka my second child, maybe a little too much. However I don't feel too guilty when I give him Nylabone Healthy Edibles.  I think his favorite flavor is probably the wild turkey or venison, however he also really enjoys the bison and salmon.
They're made with real meat so I can see why he loves them so much. I really like that they're made with natural ingredients and no preservatives so I know they're healthy for him. He doesn't have any problems digesting them which has been a problem with some other brands of chews. An added bonus is they're made in the USA (this is very important to us). These are a big hit in our household.
I tried to get a picture of Buddy enjoying his Dino shaped Chicken & Bacon flavored Healthy Edibles, and this is the best I could get. The dog was afraid I would take his new favorite treat away from him, so he "hid" under the bed.
Right now score a great deal on Healthy Edibles Wild Occupying Dog Chews by using this great $1/1 Healthy Edibles Wild Occupying Dog Chews coupon! We are picking up more of these delicious treats when Buddy attends his next Puppy obedience class this weekend. Maybe they will teach him, not to hide when mom is trying to take a picture for an article ;).