Making sure you take care of your feet and have proper support is vital for your foot health. You literally walk and stand on your feet for hours each day, possibly longer depending on the field of work you are in. That is why getting custom fit Orthotic inserts is a great idea. You can find a Dr. Scholl's Custom Fit Kiosk at select Walmart stores. The machines are really easy to use. You simply step on the machine, it will look over your feet, and share what insert will best fit your feet. The Dr. Scholl's Custom Fit Kiosk, will identify the areas of your feet that need more support. For example, if the kiosk shows that you have very little arch support, they will recommend an appropriate Dr. Scholl's insert for that!
The Dr. Scholl's Custom Fit Kiosk will measure where your weight is distributed in regards to your feet, and identify which foot, and even which part of your feet has the greater weight distribution on them. From there, the Dr. Scholl's Custom Fit Kiosk will recommend a specific insert to help give you the exact support you need. It is a really amazing way to get perfect fitting insoles that support your feet without having to go to a specialist and get seen!
Benefits from Dr. Scholl's Custom Fit Orthotic Inserts
Provide comfort and support to your feet, knees, and even lower back
Clinically proven to help relieve foot pain, knee, and lower back pain from being on your feet
Enhances your posture and stability
And much more
Buying the inserts through the Dr. Scholl's Custom Fit Kiosk  is a very economical route to take. When you think of visiting an orthopedic doctor, it can get expensive quick when you add up the copay, testing, and so on. This is a very affordable and good option for many people, and you get instant results.
All it takes is just a few minutes. Do it when it is convenient for you! Even if you go to Walmart at 2 am (if your local Walmart store is open at that hour), you can still use the machine to see what inserts they recommend! You have full control over if you decide to buy them or not.
You can buy it for your shoes you use to work out in, your work shoes, any pair of shoes that you wear! If they fit and you find that they offer great support and help alleviate any discomfort you were feeling, why not buy inserts for every pair of shoes you own! To help you get started, here is a $10 off a pair of Dr. Scholl's Custom Fit Orthotic Inserts coupon for you to use at Wal-Mart!
$10 OFF Coupon for Dr. Scholls Custom Fit Orthotic Inserts
Giveaway – 10 WINNERS
: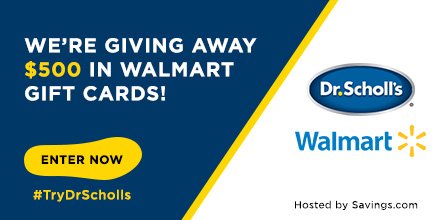 Plus, if you love Giveaways, enter this one! 10 lucky winners will Get a $50 Walmart Gift Card! Submit your email address to the form at the top of THIS PAGE , to enter. The winners will be chosen by a lottery draw, and they will notify you Monday (8/28) if you are a winner!